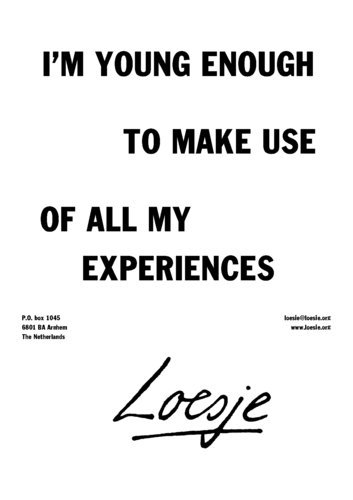 We are looking for two creative and motivated people to do European Voluntary Service (EVS) at the international Loesje office in Berlin for 12 months. EVS is a project of the European Commission and it means you can live for free in Berlin, do society-committed work and enjoy life, if you are under 31. Regulations you can read below.
Who is Loesje?
Loesje is an idealistic organisation which aims for a creative society based on own initiative and active citizenship. The objective is to exchange ideas and opinions, to stimulate people to create their own ideas. Loesje mainly uses posters with short but strong texts (one-liners), which shine a different light on particular subjects. Our main activity is to create such posters, together with our members, as well as with people from other organisations. The posters are spread on the Internet, around the streets, in community centres, schools etc. The aims of the organisation are to spread black and white posters to colour life and to create possibilities, in which participants of Loesje activities can start and support progressive social initiatives.
The project
The project will start on the 1st of September 2012 and will last until the 31st of August 2013. It will be a great experience! At our office you will be working together with Rola (SE), Artur (PL) and interns from different countries, as well as many other active people of Loesje. The accommodation is arranged and for free, we have a cosy EVS flat where you will live together with the other EVS volunteer. You get money for food and pocket money, insurance, a German language course and a bike. The atmosphere at the office is informal and there is a lot of space to come up with your own ideas. A mentor, as a personal guide, will be present during your EVS year, although we encourage self-initiative, because an active attitude is essential for the work we do.
Project description / tasks
The actual work you'll do greatly depends on your own interests. Own initiative is highly valued. An incomplete overview of the possibilities:
· be in contact with and support new & old members
· support and organise international projects
· organise international youth meetings
· give creative text writing workshops
· help to develop and update the Loesje website, Facebook and other social media
· co-organise the yearly Loesje Summer Camp
· organise or create exhibitions, workshops or other activities in our project room: Loesje's Imagination
· graphic design (lay-out of flyers, posters and Loesje products, as books)
· you could be also involved in PR, networking, technical development or fund raising
How to apply?
First read the regulations and selection criteria. If you have any questions, feel free to ask us. One advice, in case you know the people at the international Loesje office, pretend you don't know them. What you write is very important to us and not what you believe that we know of you. It's better to write more than to give too less information.
Regulations
· You are not allowed to be German
· You should be between 18 and 30 years old (not yet 31 by the start of the EVS project)
· You should be able to speak English well (preferably more languages)
Selection criteria
· A strong motivation clearly describing what you want to do
· CV and Creative Vitae (what are your creative skills?)
· Able to work independently and to develop own ideas
· Experience inside Loesje
· Experience in organising projects
· Computer skills
· Willingness to live with another EVS-er
· We should believe you will fit in our team
· The following skills are not a requisite, but could be a plus: driving license, German knowledge, experience in lay-out, PR, fund raising, web design, hard ware and soft ware, book keeping or knowledge on topics that could be interesting to Loesje
· We prefer a geographical and gender mixed team, though personal qualities weigh higher
Deadline for applying:
The deadline for applying is the 4th of March 2012.
We will inform you as soon as possible, if you are selected or not.
You can send your application to evs@loesje.org