This weekend, Loesje went to Leipzig for a Creative Writing Workshop in German. The summer vibes impregnated everyone with energy and creativity so we got good texts! Besides the workshop, Loesje also went sticking and now you can find many posters in Leipzig walls.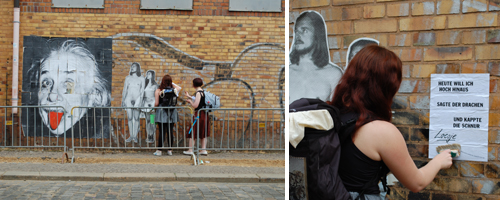 This workshop was done under the project Communi-action that involves active young people in Berlin, Germany and Koper, Slovenia. The aim of this project is to build two connected EU4YOUTH Points: one in Berlin and one in Koper.
These two points in Europe will serve as education-information-creative spaces for youth who want to learn more about EU, youth in EU, NGOs, literature and human rights. They will also be creative and participatory points.
The EU4YOUTH points will have three simultaneous functions: reading spot, creative-reflective spot and networking spot. Here Loesje creative text writing workshops, exhibitions and other activities will take place.
The Leipzig workshop was done not only to have some good Loesje action in the city but also to promote the Communi-action project and spread the idea of the Eu4YOUTH points outside of Berlin.